Elephant Breath 2020 - 2021
Video (11:17 min)
Part of AMPlify, an digital residency with Wysing Arts Centre, UK.
The artwork can be accessed via
Wysing.Broadcasts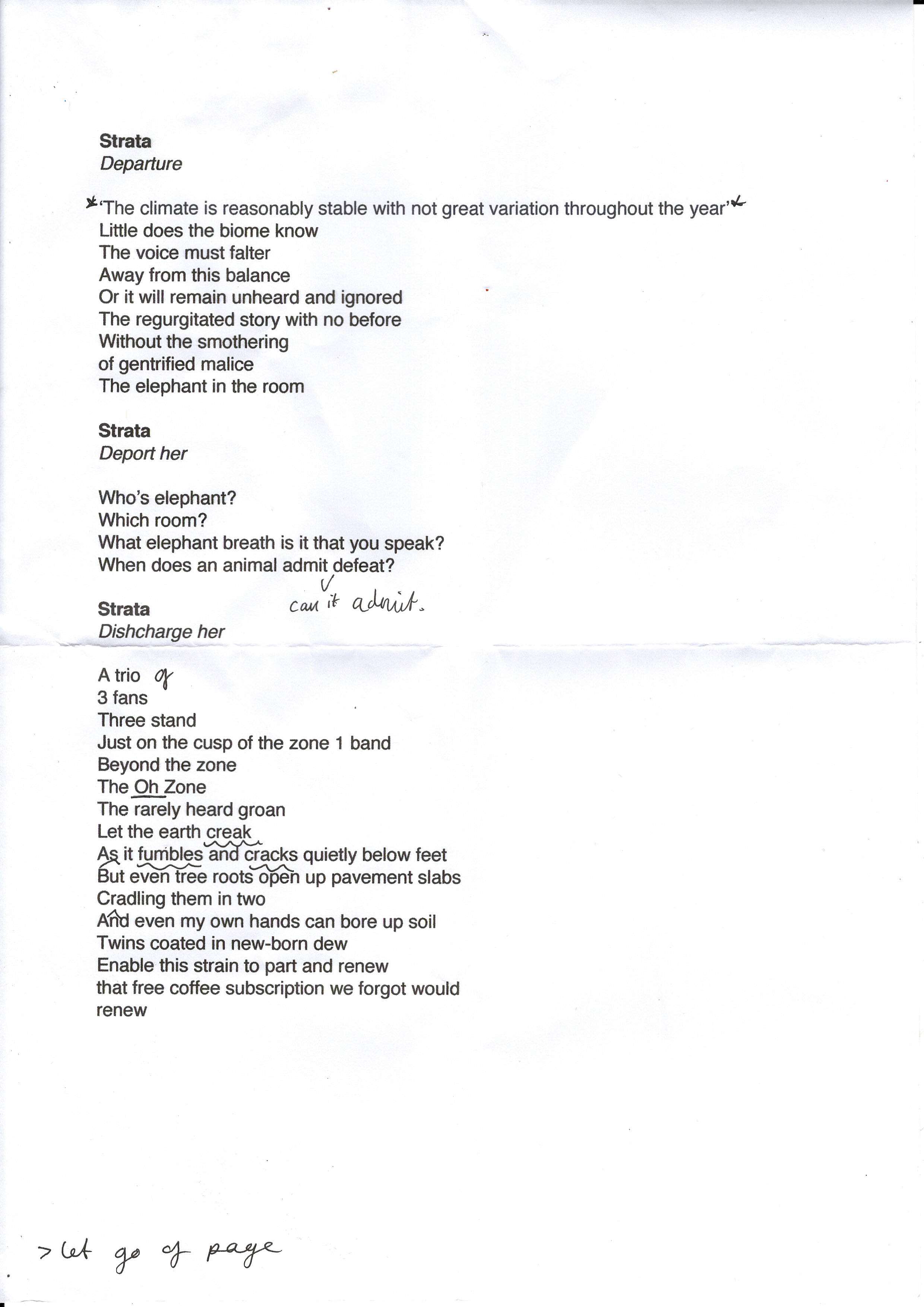 A series of videos depict the Strata building, a skyscraper situated in Elephant and Castle in South London, zooming us in and out of the structures stance. Guided through a collage of videos which flows into a staged performance, words spoken aloud question the position, amplification and responsibility of 'voice'. With the drastic changes in this specific part of the city being imposed by gentrification and social cleansing, Strata is a physical marker within an urban landscape pinpointing this shift. The building harbours a peculiar stance, the fans at the peak of the structure lay dormant, out of use due to residents living in the new build complaining of the noise disturbance that the feature generates. The eco-friendly design resides quietly functionless and redundant, the fans are purely aesthetic. The locals living and working below are shunned out with their voices, histories and homes silenced as regeneration is prioritised.
The three fans are echoed within the performance installation that the artist moves around. These domestic fans are painted in specific shade of beige paint titled 'Elephant Breath'. During this video the artist interacts with these objects as apparatus to distort and combine the voice. The act of naming and addressing behave as devices for the artist to search for meaning through. Re-enacting strata (be it as building, as body and as rock) the video navigates an alternative landscape which fluctuates between the visible and invisible.
Additional credits
Filming – Anastasia Alekseeva
Voiceover – Abbas Zahedi (00:00:28 – 00:01:20)
Technical support – Rubie Roo
Idea realisation – Special thanks to Harold Offeh and Matters of Interest
Editing support – Toby Upson and Emily Roderick
Live stream group reading performers - Matters of Interest members and AMPlify artists Oliver Warren, Rosemary Moss, Johanna Saunderson and Poppy Jones-Little