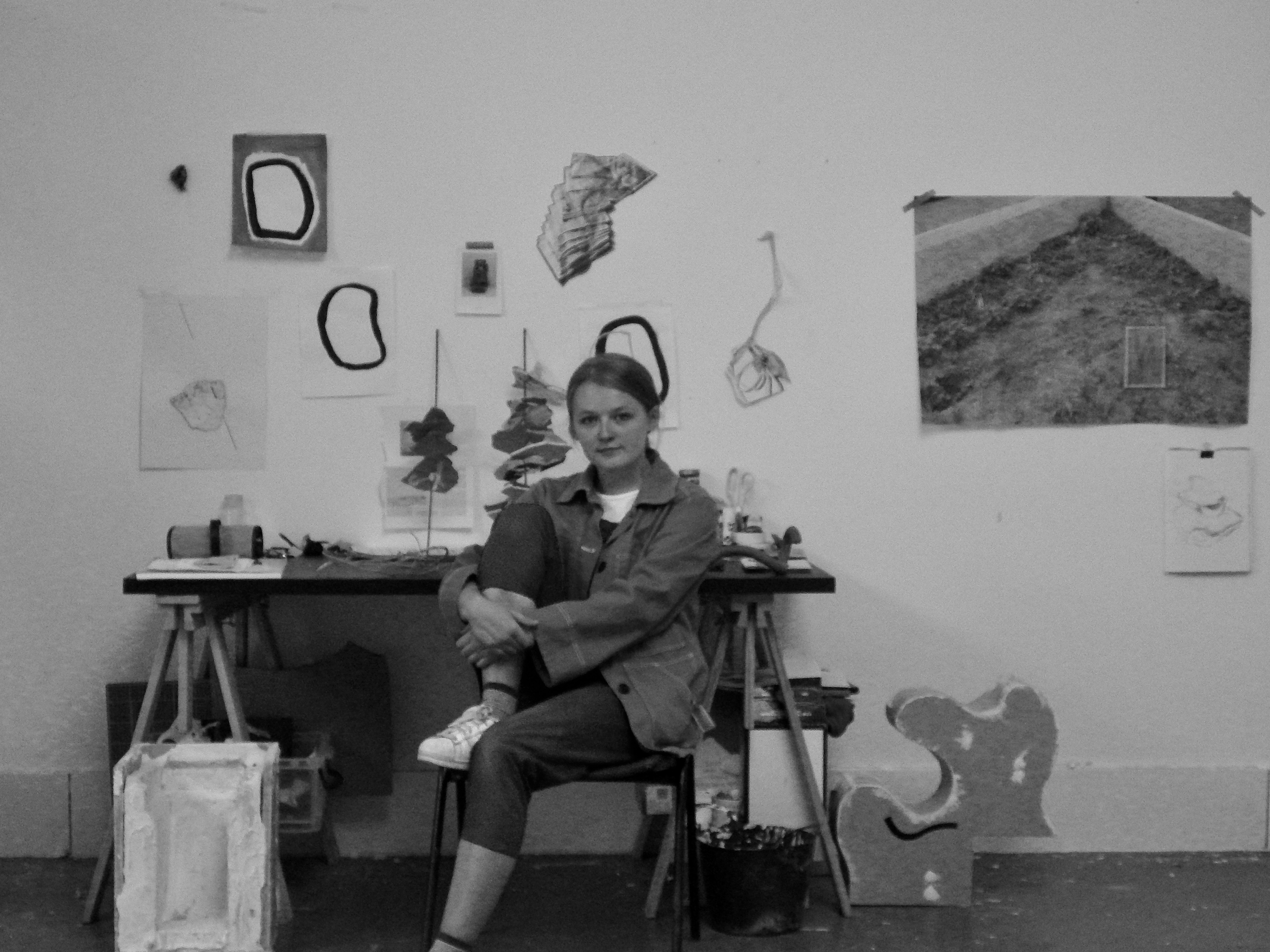 Lucie MacGregor (she/her) Artist and Social Practioner.
b. 1996, Huddersfield, West Yorkshire. Based in London.

As a multidisciplinary artist, my making harbours the synchronicities between found materials and the situations they are extracted from. Moving between sculpture, drawing, ceramics and performance, the collective gesture enables me to question binary-based conventions of artmaking through humour and multisensorial approaches. Fridges and concrete mixers have been framed as unconventional art tools in my workshops and electronic waste paired with paper pulp, all of these have been guided through social exchange. Visible in my recent collaborative exhibition 'Machine? Machine!' (2023) at Camden Arts Centre, waste streams from the gallery and its locality transformed paper archives into a surface embedded with a revalued, collective history. Returning to grids and multiples in my sculptures, modular forms have become a harbour for these pulped pieces and other gathered fragments I collect. As a queer artist, I find the levels of visibility within paper pulping an empowering and unique notion I aim to share with others. In my workshops each paper mixture is particular to the participants' mode of interacting with it and its continued materiality. This observation contributes to the evolution of my methodology of paper pulp as a material of research. Inviting in paper contributions from collaborators, friends, family and findings, the pulp embodies my interactions into a physical material that fluctuates within each making cycle.

Recycling materials into curious formations, etymological roots that ground everyday objects become blurred into slightly michevous ones. My sculptures react to urban transformation that is rapidly occurring in the city I live in, particularly to that of gentrification and my own complications of being an active force in that as an artist.

Recent exhibitions include 'Mermaids' at Corner 7 Gallery (2023) and in 'Tethered' at Unit 2 Gallery in London (2023). I currently facilitate art workshops with young audiences at Dulwich Picture Gallery (2022-Present), AFRIL in Lewisham (2023), Drawing Room (2021-2023), Towner Gallery in Eastbourne (2022-2023) whilst co-facilitating SEN workshops at Camden Art Centre (2021-present). I have begun teaching at Hampstead School of Art since this September on the Art Foundation and Advanced Courses.



Workshop faciliation at Camden Arts Centre exhibition 'Machine? Machine!'
Co-faciliating intergenerational workshops at the Towner Gallery, Eastbourne 2023.
'Signposts' workshop comissioned by Artwalk Wakefield and The Art House in October 2021.

︎ lucie_macgregor